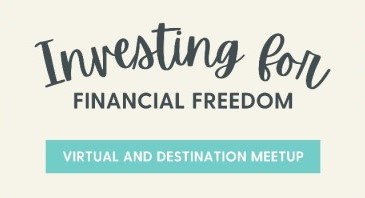 Investing for Financial Freedom–Virtual Meetup
This is the kick-off event for the new monthly meetup and annual destination networking event, Investing for Financial Freedom!
During the first meetup, we will spend a few minutes on the vision for the meetup, what types of speakers we will have, and who the meetup will be the best fit for. Then we will get started on our journey to financial freedom by doing a mini workshop designed to help you find clarity about where you are starting from, what financial freedom means to you, and put a plan in place to achieve it as quickly as possible.
Melanie McDaniel is an advocate for lifestyle design through the intentional dreaming, designing, and doing the plan that gets you on the path to financial freedom and living that dream lifestyle. Melanie is currently on the path, but she hasn't arrived yet, but that isn't keeping her from living elements of her dream lifestyle now. She has put together this mini workshop to help you gain clarity and put pencil to paper to give you realistic timelines and numbers, so you can confidently get started on your path to financial freedom.
The mini workshop will be followed by networking in Kumospace, an immersive online platform, so you can meet other investors to share investment success, meet fellow financial freedom seekers, and maybe find some friends to do the journey with. Let's do life in community!
Recent Posts
Recent Comments
Calendar
SU

MO

TU

WE

TH

FR

SA
1

2

3

4

5

6

7
Events for October
1st
No Events
Events for October
2nd
No Events
Events for October
3rd
No Events
Events for October
4th
No Events
Events for October
5th
No Events
Events for October
6th
No Events
Events for October
7th
No Events
8

9

10

11

12

13

14
Events for October
8th
No Events
Events for October
9th
No Events
Events for October
10th
No Events
Events for October
11th
No Events
Events for October
12th
No Events
Events for October
13th
No Events
Events for October
14th
No Events
15

16

17

18

19

20

21
Events for October
15th
No Events
Events for October
16th
No Events
Events for October
17th
No Events
Events for October
18th
No Events
Events for October
19th
No Events
Events for October
20th
No Events
Events for October
21st
No Events
22

23

24

25

26

27

28
Events for October
22nd
No Events
Events for October
23rd
No Events
Events for October
24th
No Events
Events for October
25th
No Events
Events for October
26th
No Events
Events for October
27th
No Events
Events for October
28th
No Events
29

30

31

1

2

3

4
Events for October
29th
No Events
Events for October
30th
No Events
Events for October
31st
No Events